Songs:
Popcorn Song
There are seven days in the week
What's the Weather out Today?
ABC
Mr. Sun
Twinkle, Twinkle Little Star
Blue Bird
5 Little Monkeys
5 Litle Ducks
Watermelon
5 Little Speckled Frogs
Hot Cross Buns
Open Shut Them
Jump in the Water.............
Good Morning Songs (Hello, how are you.....)
Read a variety of books!
Diferent activities we did today:
William is gradually adusting to the classroom environment.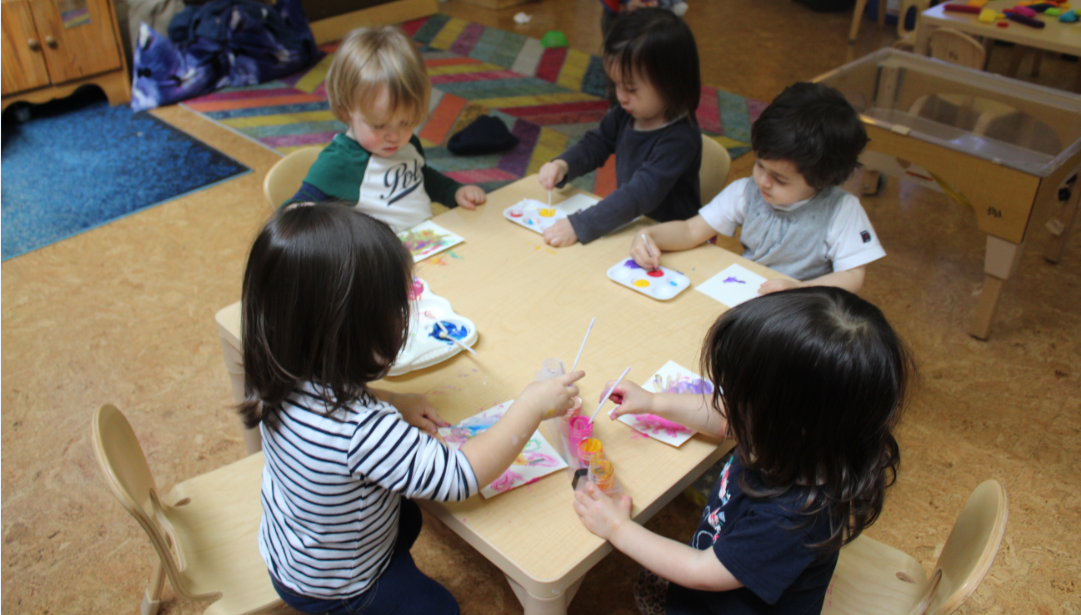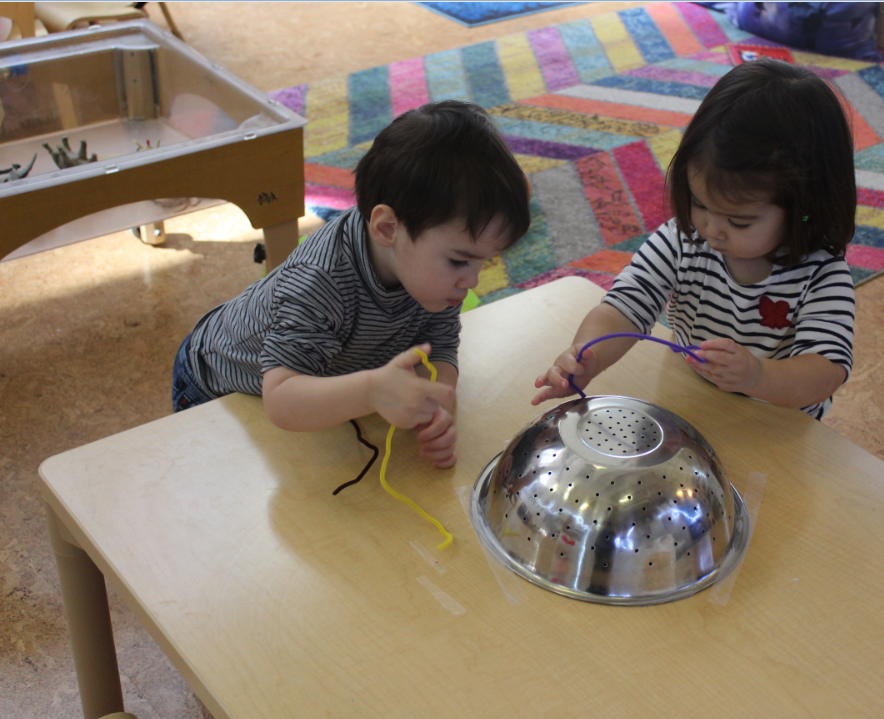 Pretend play, sometimes called symbolic play, imaginative play, or dramatic play introduces the concept that one thing can "be" another." At this age, toddlers may start to play with dolls as if they are "real." For example, feeding them, putting them to bed. As Rheya is imitating the teacher, she is using her imagination, actions, and language to think things through and to remember what happened in familiar situations (circle time). Because this activity is fun, she will become so engrossed that she can think and act it through from beginning to end. She enjoys pretending play on her own, making animal noises when she sings Old McDonald or creating an airplane using unit blocks, and makes the sound of an airplane. She also participates in "let's pretend" games with other children, thus developing her social skills. Pretend play will help her to express her emotions and feelings safely.
Young children are not able to organize complex thoughts, so when he/she dresses up and acts as a doctor or teacher, he/she is organizing their thoughts and coming to understand the doctor's and teacher's role. Through such play roles, they are slowly beginning to think about what it would be like to be someone else so that by the time they are about four-and-a-half they have some understanding and awareness that other people have their thoughts and feelings.
A reading session with Shakera!
Madeline: "I'm painting my banana."
Children are learning about color, shape, and counting. The teacher incorporates a variety of manipulative toys, feathers, and other items, to make the counting experience exciting and interactive. They learn to count in sequence and count with one-to-one correspondence (from left to right or right to left). As children count, they also learn about color and shape. Promoting math awareness and skills to young toddlers, helps them to be curious, and how numbers and counting apply to his/her life and the world around them.
As Ellie aligned the carpet pieces, she counted each one.
Ellie: "Look, five squares!"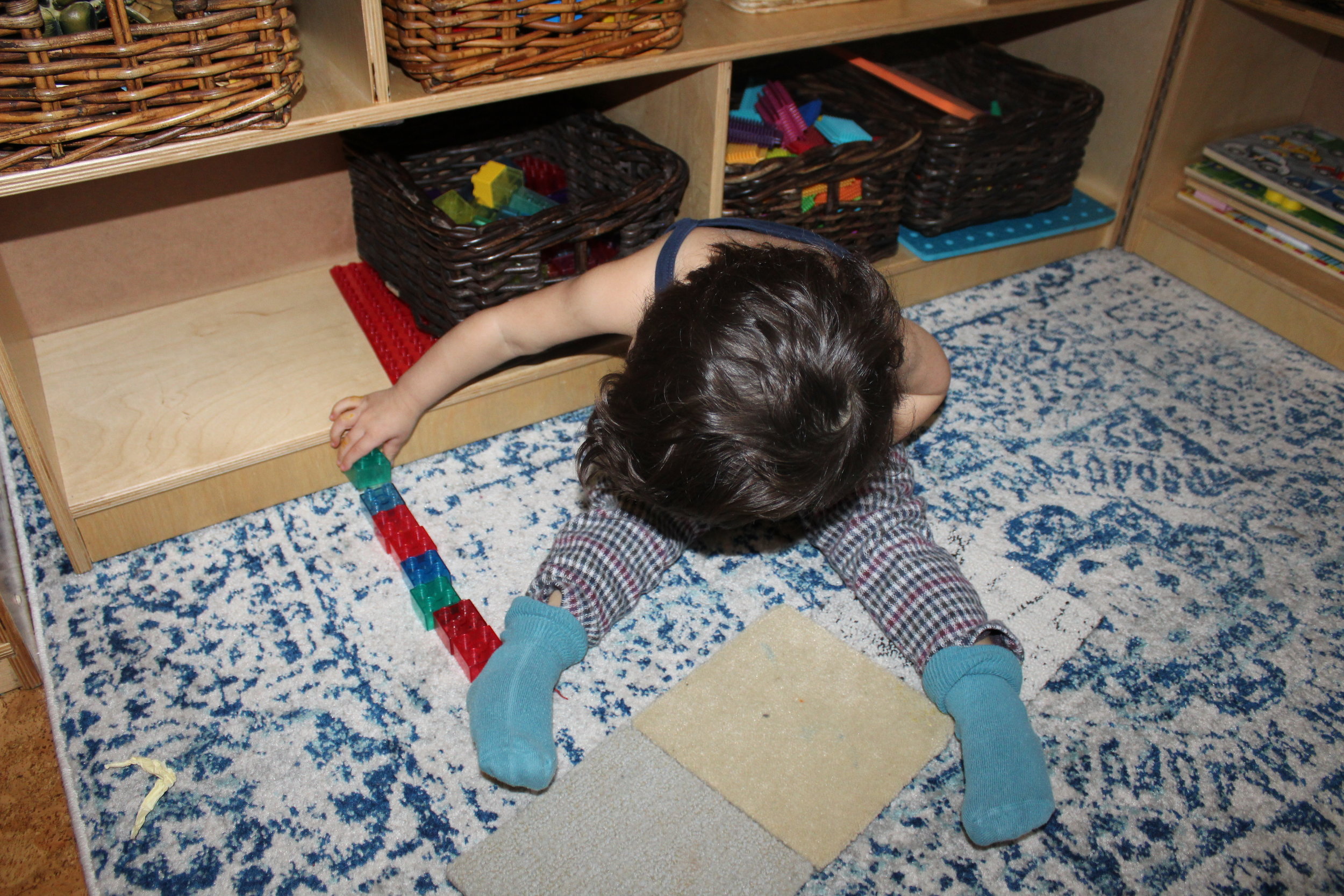 The pictures demonstrate Ellie is selecting some Lego Blocks and counting in sequence and using one to one correspondence.
Ellie: "1, 2, 3,4,5,6,7,8,9, and 10!"
After reading Hooray for Hats, the teachers asked the children some questions.
What story did Sandra read?
Ellis: "Hooray for Hat!
What are some of the animals in the story?
Everyone said, "Zebra, elephant, lion, and turtle!"
Ellis: "And Giraffe!"
What gift was everyone getting?
Ellie: "A hat!"
Why did they receive or get a gift?
Ellis: "Feel better!"
Reading out loud exposes children to proper grammar and phrasing. It enhances the development of their spoken language skills, their ability to express themselves verbally and hear the correct pronunciation. Reading open doors, doors to new words, even when they do not understand every new word, they absorb something from the context. Reflecting back to a story helps children cognitive development. It enables them to think again what they have heard and seen from the book.
Teacher: "Ellis, I am noticing that you are completing each row with different color pegs. What are you constructing?
Ellis: "A birthday cake!"
This open-ended art activity is all about the process. The concept "Process Art" applies to young children because it's how children learn, allows them to be themselves, make their own decision, and most importantly, create! The goal of arts and crafts is to hone their creativity and to allow their imagination to run free. It gives children the opportunity to explore the world around them and see how things work. Process art promotes different areas of development: gross motor skills and coordination, fine motor skills, sensory exploration, creativity, language, art techniques, self-expression, and spatial reasoning.
This fun activity helps children to experience a different form of painting on paper. It allows them to explore, experiment and discover that the composition of paint appears differently on each surface they paint on. Mirror paper makes the painting shimmer, and the metallic surface creates a shiny and slippery appearance. Each child projected different strokes on the mirror using paintbrushes. As they see their reflection, they also see the different strokes he/she has painted.
Olivia: "Green circles!"
Teacher: "Mario, what color are you using for your mirror painting?"
Mario: "Color, blue! Snowballs!"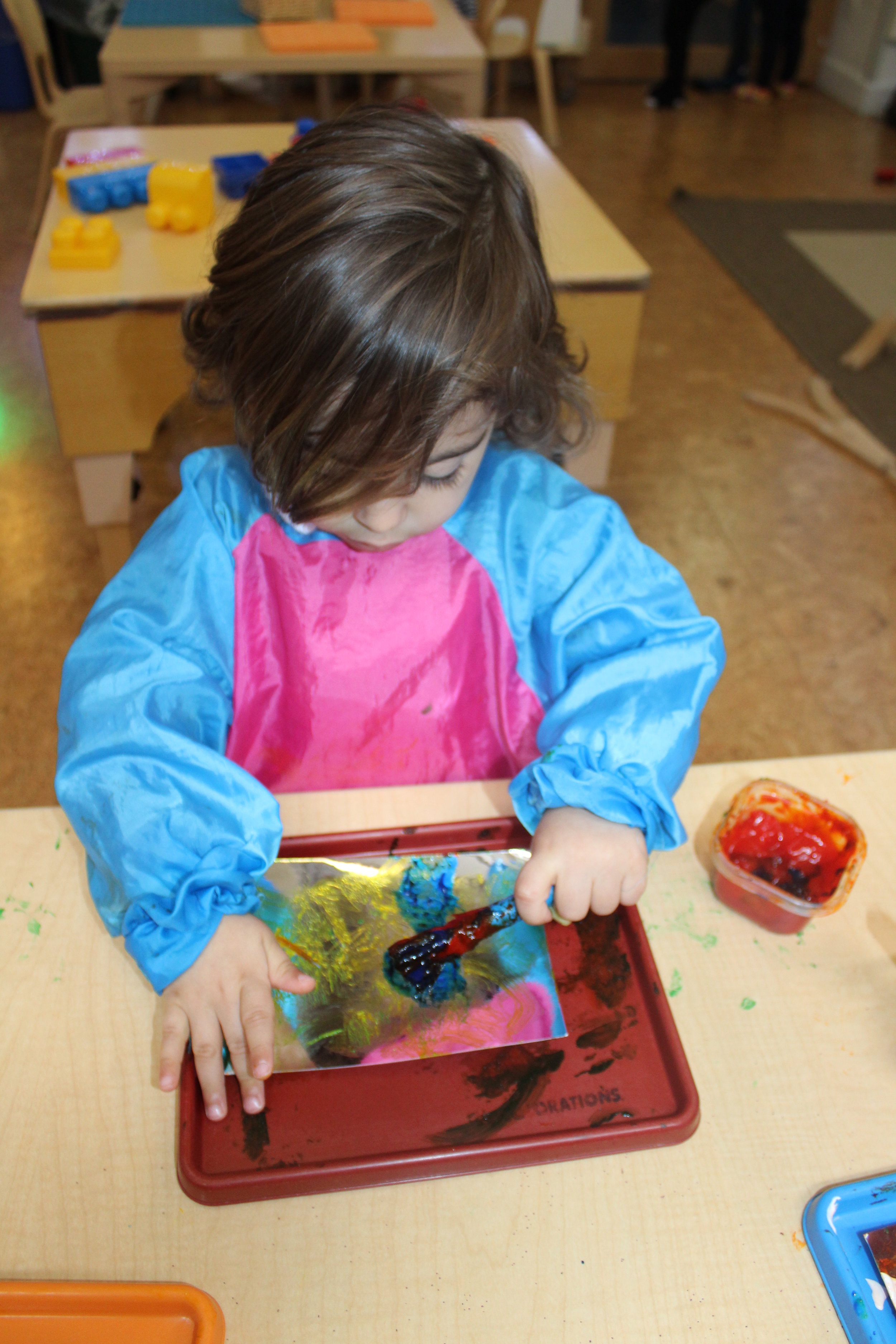 The children were exploring mirror painting at one of the tables. Grayson observed until he picked up a paintbrush and mirror paper. It appears that the mirror paper stimulated his curiosity and interests, even though he did not engage with the materials.
Grayson is one of our recent students that joined classroom 1B. He is gradually adjusting to the classroom environment, routines, schedules, teachers, peers, and activities. It is always a difficult transition from home to school for young toddlers. As teachers, it is essential to provide opportunities for them to explore and discover things at their own pace.