We are celebrating "Literacy Week" next week. Literacy week raises awareness about the importance and value of literacy. Reading books are essential tools that enable children to:
help children become familiar with sounds, words, language and the value of books
stimulate curiosity, imagination, and help his/her brain development
reading can help children understand change and new or frightening events, and also the strong emotions that can go along with them
help children develop early literacy skills like the ability to listen to and understand words
Little Blue and Little Yellow
By
Leo Lionni
The children listened to a beautiful story about friendship and colors. A story about two friends, little blue and little yellow, and their new color represents a merging of their two individual colors, green. Little Blue and Little Yellow are friends, but one day they can't find each other. When they do, they were so happy to see each other that they hug and hug until they turn green. Although they do not stay green, they were still friends. This unique storybook is useful both as an introduction to color blending and as a story of friendship and acceptance.
Painting Activity:
Using two primary colors, yellow and blue to create a secondary color, green
We formed two groups for this activity
First group: We provided one paper plate in which we placed one blob of yellow and blue paint. The children combined the colors until the new hue turned green.
Second group: We provided two paper plates, and a drop of yellow and blue paint on each plate. Then the children rubbed the two paper plates together until the green color revealed.
Two different ways to explore paint!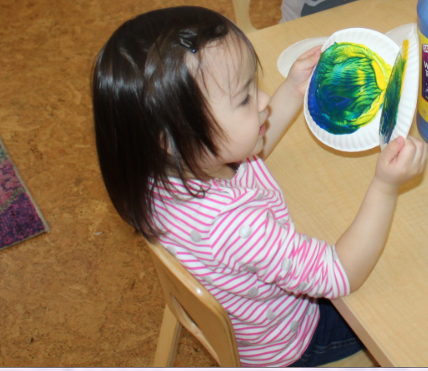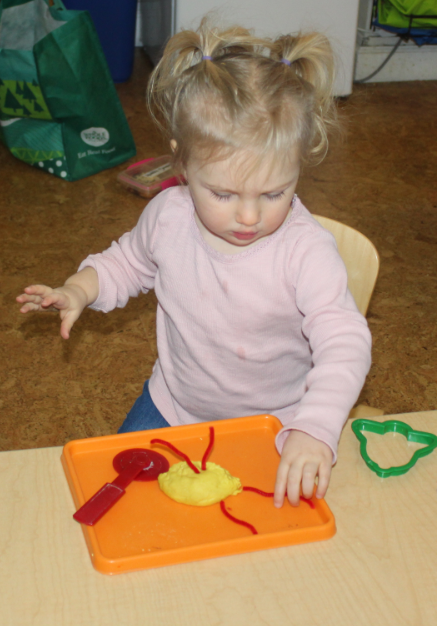 Play dough is a sensory exploration activity. Madeline squeezed and pressed and formed a ball. The teacher provided tools for further exploration and pipe cleaners for adornment.
Children are learning to take turns, share toys and engage in play.
Every morning we have a routine before we enter the gym, we line up against the wall and sing one song.
Toddlers are learning to understand their own space. Children are constantly testing their body; they crawl in, around, over, and under things. The first thing toddlers do when they see a cardboard box is to try to get in it. As they explore getting into the box, they are discovering their body. Cardboard boxes are excellent tools for spatial exploration, and understanding their space.
Cardboard boxes also promote comfort and security. It creates an emotional need to be in a small space. It enables the child to connect with their inner need to be bundled up or embraced. It also provides a sensory experience. The soothe sides of the cardboard, the sound it projects when folding or carrying the box, the natural brown color, and drawing on the box are all integral parts of the sensory play. Their imagination and creativity evolve, as they explore and discover new ways to use the box.
Part of our curriculum is to provide music. The words and instruments are the special elements that make the music come alive. Children smile, jump, clap, and sway to the music they hear. These experiences promote the development of listening and language skills, motor skills, and creativity.
We visit the "Music Wall" and the children explored and manipulated different instruments in the basket and the guitars displaying on the wall. As they played an instrument they sang ABC, Mr. Sun, and Twinkle Little Star to name a few. Music and movement contribute to children's overall development. Listening to and making music helps children's developing brain. As children learn words to songs, it makes them feel proud and able to participate in singing.
Highlights of the week:
Circle Time:
During circle time, Ms. Janet drew a self-portrait of Ms. Sandra. She asked the children, What is Sandra missing? All the children participated and articulated the different features until the self-portrait was completed. I don't see a resemblance; however, the children identified, recognized, and articulated the facial features.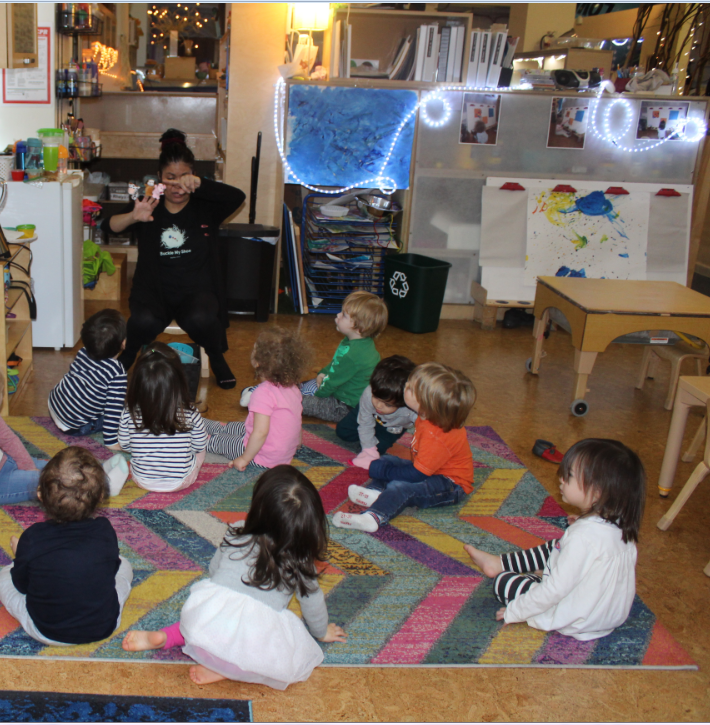 The teacher and children did smoothie today. They used strawberries, bananas, and yogurt!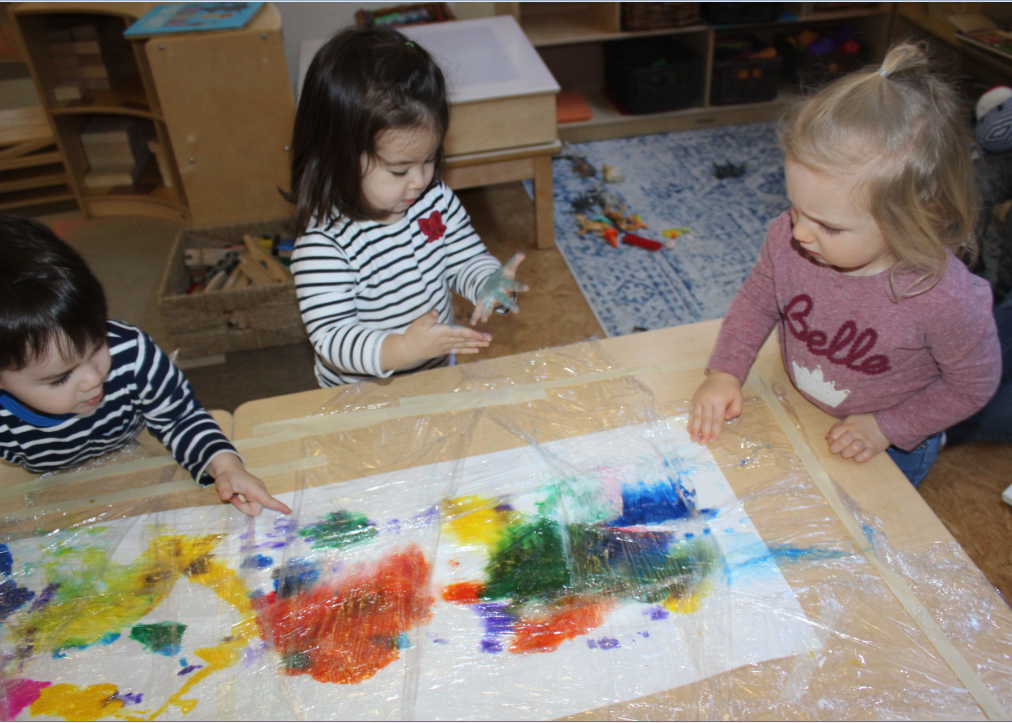 Arturo, Mario's father came to read to the children after lunch. The children were excited to see and hear him read.
Playing with toys is an essential part of a child's development. The railroad system can provide an excellent stimulus for creative play. Train tracks are innovative; they promote problem-solving, imagination, language, socialization, and fine motor skills. Straight, curve and bridge style tracks help children to put train tracks together and put them in different ways.
Each piece stimulates Edith's imagination and creativity. It also enhances problem-solving skills. Edith created her track configuration. She carefully chose and connected each track, and each time she interacts with the tracks, she is extending them further. She observed and focused on each track, making sure it fits.