The children are learning new songs, such as, popcorn, What's the weather, There are seven days in a week and Jump in the Water....?...!
For example, the song goes "Jump in the Water Edith, Jump in the Water Edith, You're all wet, You're all wet, Shake your body dry, shake your body dry, you're all dry."
As they learn new songs or songs that they have sung since the beginning of the year, they learn to articulate the words and follow the pattern, which word comes next. Songs help their language, cognitive, and physical development.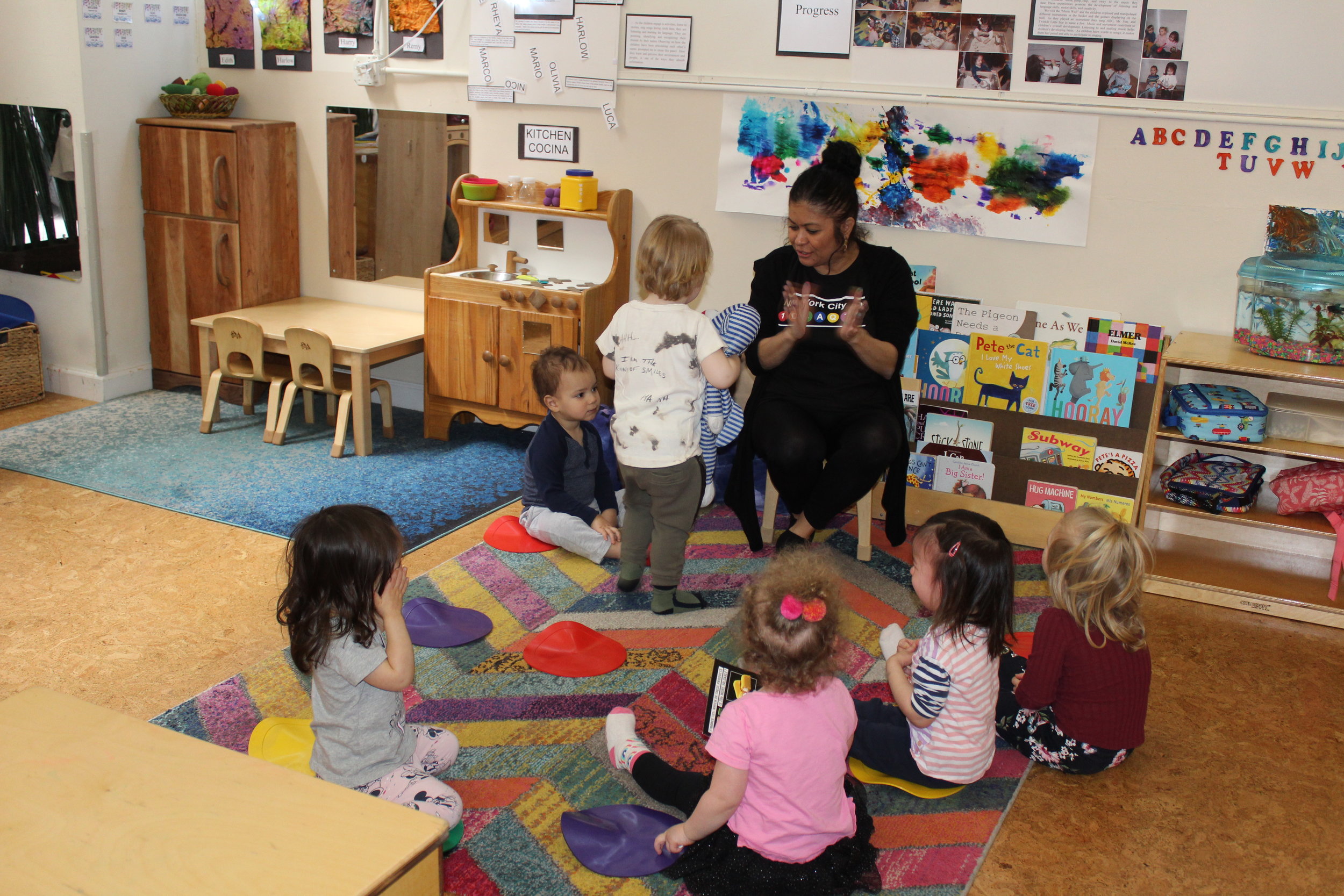 Some children were creating suncatchers by adorning CDs. They used glitter, glue, and sequins. Each step enhances their cognitive ability, as they think about their choices. They selected two different colors of glitter and mixed each with glue. Then they spread the glue on the CD, promoting fine motor development as they maneuver their hands, back and forth. The children will continue their activity on Artsy Day, Thursday. Each child would have the opportunity to create and explore making a suncatcher.
Ellie gives Mario one square carpet at a time, and Mario aligns them. As they play cooperatively, Mario appeared excited to have placed them together.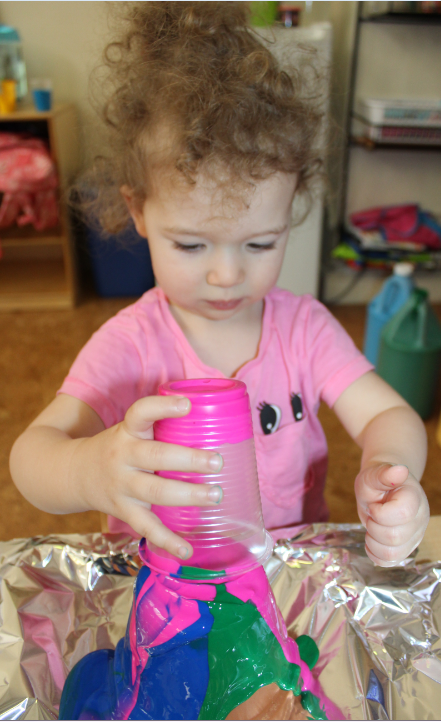 Remy: "My favorite color, pink."
The children are painting their flower pot with the colors of their choice. The teacher asked them to choose three different colors for their flower pot. Some children selected three; whereas Ellie picked one color, blue.
Remy: "R for Remy and Rheya!"
How Clouds Make Rain?
We did the experiment again and this time we used a smaller jar and added less shaving cream. Children can learn about the weather with this rain cloud science experiment. The shaving cream represents a cloud, and the water is the atmosphere. The weight of the food coloring will start to push through the shaving cream and fall through the water that's in the jar! It will look like streaks of rain falling. The children appeared eager as they see the experiment unfold. Hands-on learning experiences allow children to wonder, discover, explore and see how science is part of our everyday world.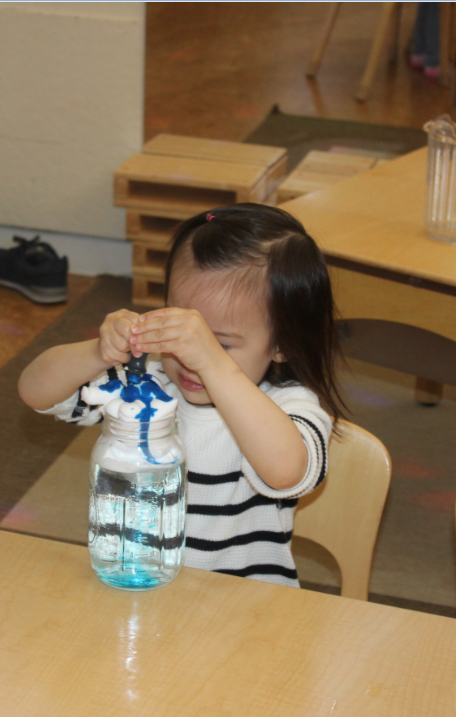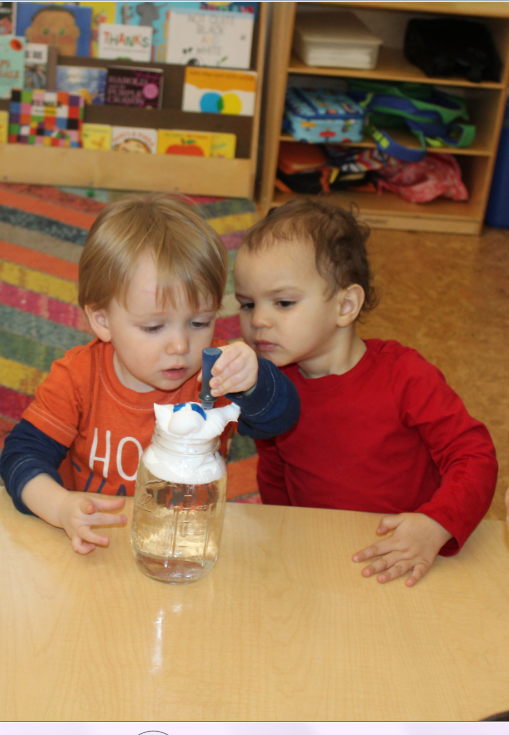 Harry drew a snowman on the erasable board!
Classroom 2A didn't have a fish and as a school community it's always nice to share. We had two fishes and we thought it would be a good idea to give one of the fish a good home. We voted as a class community that the blue fish, Tata, would stay in 1B.
We took the Red Fish to classroom 2A and the children appeared excited as they saw the teacher with a bowl, and a fish swimming inside. We are sure that she will be happy in her new home with new friends.
Scissors have two crossed pivoted blades and ring-shaped handles at one end. As toddlers (18-24 months) engage in using their small hands to open and close the blades of the scissors, they will begin to understand how to use them. As he/she grasp and manipulate the object with purpose, they gain experience that cutting with scissors requires them to use the thumb, index, and middle fingers separately from the pinkie, and ring fingers. Do not be surprise if their first instinct is to rip the paper. That is quite natural and appropriate with young toddlers.
Train tracks are not only fun but developmentally appropriate for young toddlers. They are tools that help facilitate optimum child growth and development. Each piece stimulates Madeline imagination and creativity. It also enhances problem-solving skills. Madeline created her own track configuration. She carefully chose and connected each track. She observed and focused on each track, making sure it fits.