We sang and read a variety of books and songs!
Painting, gluing and cutting are part of our sensory exploration that allows children to understand materials and the world around them. All the children are participating and creating different kinds of arts and crafts for our Spring Market Event. As they engage and interact with the materials they are using their imagination and creativity.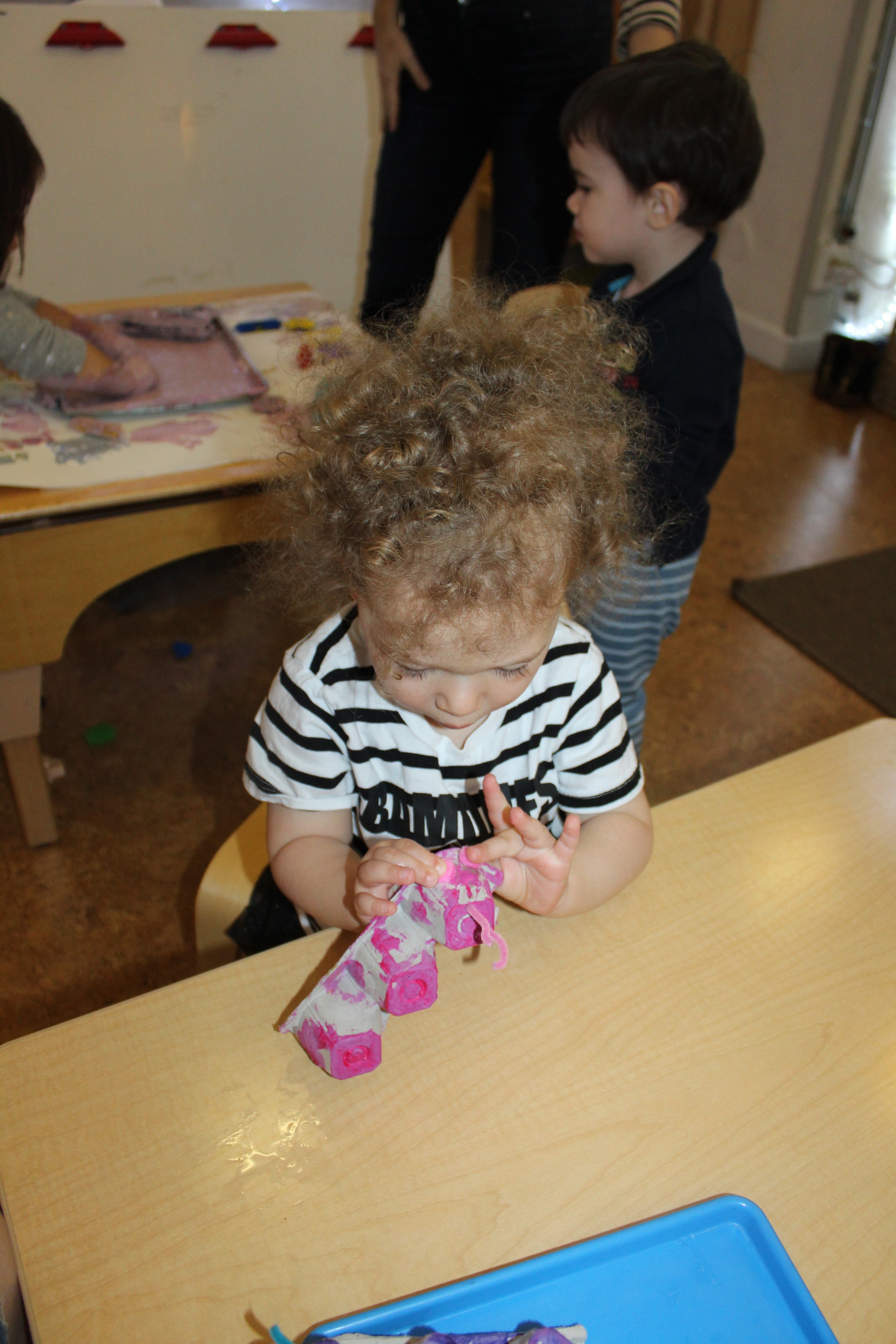 Creating and painting caterpillars using egg cartons. The children selected the color to paint their caterpillars, added antennas and pasted eyes on their caterpillars.
They used a variety of colors to create a wonderful painting on canvas. They appeared curious as they patted, and lightly touched and rubbed the bag. They demonstrated eagerness, as they continued to manipulate the paint, and discovered how the paint spread inside without getting paint on their hands. Color, sensory, imagination, and fine motor skills all in one experience. Giving children opportunities to play with different types of textures and objects helps them to build new ways of talking about the world.
The children are adorning square tiles using different colors and tools to create unique art pieces. As they maneuver their hand, they create distinctive strokes.
Children Wooden Unit Blocks have been the standard for the classroom because of their proportions, (length is twice the width, width is twice thickness). They facilitate the learning of spatial concepts and simple geometry. Building with blocks promotes skills that involve the whole child. Each child moves their muscles differently to build and create structures.

The children have been discovering how different blocks feel in their hands, and about space and shapes. They develop ideas and interests of their own as they select the blocks they want to use. The children did not express what their structure was about but continued putting them into precise adjustment. Size and shape are important features that help children to decide how they want to build their structure. Blocks are stimulating and rewarding. They contribute to the children's creativity and imagination as they explore.
Physical play improves strength, endurance, balance, and body coordination when children play. The fine motor skills are an integral part of the physical development. In the gym, children run, swing, jump, roll, and throw a ball. They are building muscles! Large muscles like the arms and legs get stronger and work better as children run, stretch and climb. Each body part Masha uses contributes to her muscle strength and body coordination. As she stretches and balances using both her fine and gross motor skills, they get stronger. Developing these muscles improves children physicality.
A sense of curiosity and interest stimulates young toddlers to engage with different materials. Engaging with real glue provide students to learn and explore in ways that they cannot with a glue stick. Toddlers are learning about the properties of glue and examining what happens when something sticks to their hands, or it is left out to dry, provides vital information that enables them to understand how some materials work.

The Lego blocks and plates displayed on the table, Edie observed and interacted with them. She pressed one square shape onto the Lego plate and continued selecting different color squares unto the plate until it is almost complete. Experimenting and investigating each piece she chooses and rotates to design, helps her create her structure.
Pegs are sorting, stacking, and color recognition manipulative toy. They build fine motor skills, develops and strengthens visual perception skills, hand-eye coordination, motor coordination, imagination, and creativity.
The children were excited to explore soil! The soil is one of the natural element for planting. They squeezed, touched, and clutched some in their hands to pour it into a cup. They scooped and emptied small cups. We also included some props in the soil, to make the exploration fun, interesting and realistic (insects and branches).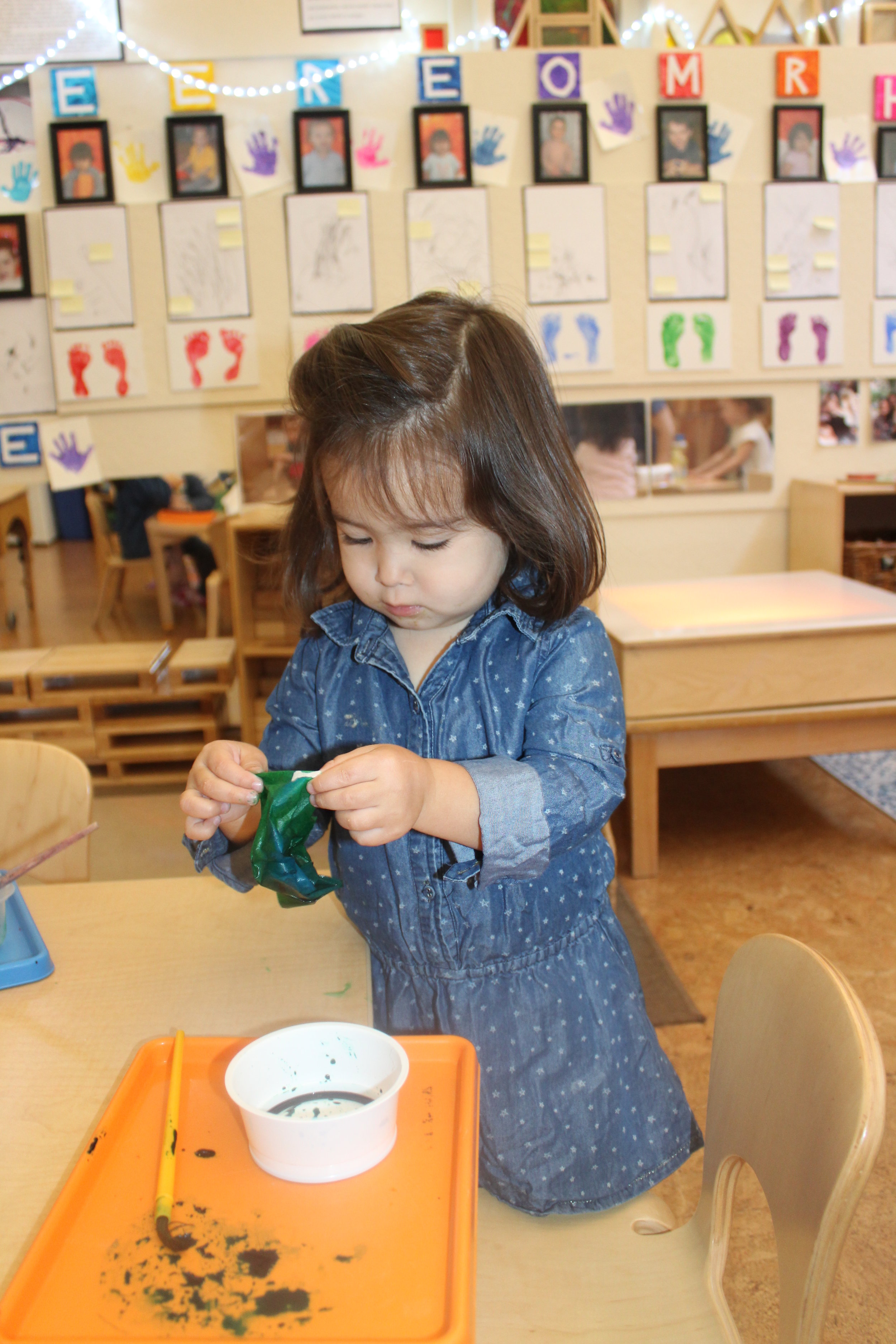 Earth Day activity, using coffee filter paper, blue and green watercolor, representing the earth.
SENSORY:
MANIPULATIVE: